Nilofar Ibrahimi is a recipient of the 2022 CRS Geoff McPherson Scholarship Awards
Each year CRS awards scholarships to students from a refugee background who are studying in Canberra. The scholarships have been awarded each year for the past 16 years, and are named in honor of the founder of CRS, Mr Geoff McPherson AM. This year, to mark UNHCR World Refugee Week CRS has presented 46 scholarships.
The CRS Scholarship program relies on the generous support of the Canberra community. This year CRS particularly recognised Hands Across Canberra and the ACT Office of Multicultural Affairs.
The scholarships were awarded to primary, secondary, and post-secondary students. They recognise meritorious performance in study and education. The scholarship includes a cash amount to assist in overcoming any financial barriers to continuing with their studies.
The CRS scholarship program is supported by the ACT Government and the UNHCR Regional Office in Canberra.
A big thank you to all those who contributed to the scholarships whether it through donations, fundraising or organising.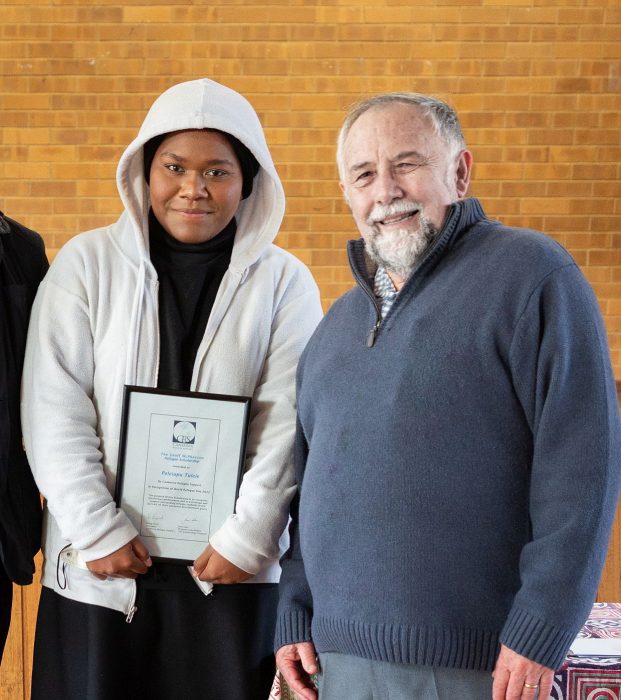 Pele has received a 2022 Geoff McPherson Scholarship.
Pele's family are refugees and have faced significant challenges since arriving in Australia. Pele is a Year 11 student at Dickson College and has worked hard to adjust to the demands of College. She is enthusiastic, loves learning and has a positive approach to life's challenges.
Sociable, warm-hearted and kind, Pele makes friends easily and goes out of her way to help others. She would like to work in a caring profession, such as aged care of nursing. Her positive outlook and caring nature bring sunshine to those around her.