Rathi Barthlote and Geetha Ramachandran
Wed 18 Oct 2023 15.32 AEDT
https://www.theguardian.com/commentisfree/2023/oct/17/weve-walked-640km-to-canberra-to-plead-for-an-end-to-our-anguish-visa-limbo-is-breaking-our-hearts
After 10 years in Australia, this is our home. We want to be part of building this country's future.
For the past four weeks, we've trekked 640kms across Victoria, New South Wales and the ACT to highlight the impact of visa uncertainty for refugees.
We've had countless blisters, and – much to our horror – more than our fair share of snakes to contend with.
But we have kept going, strong and united and filled with hope.
All 22 of us – Tamil and Iranian refugees on temporary, expired, or bridging visas – have left behind friends and family to walk. Being separated from our children, many of them born here, has been hard. But we are imploring the Australian government to see us, to listen, to care.
We've been buoyed by love and hope along the way. In town after town, communities have supported us and welcomed us, throwing open the doors of town halls and churches for us to stay. We've talked about our dreams for ourselves – to be teachers, nurses, care workers – and for our children.
Further information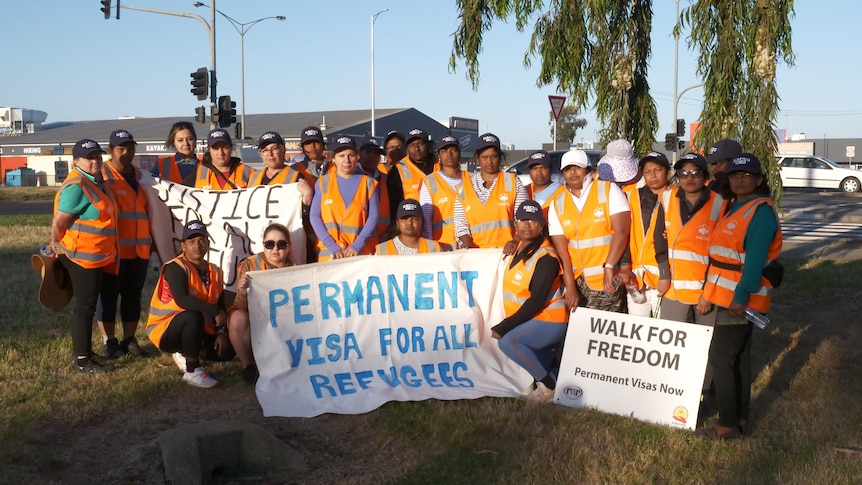 Women asylum seekers walking from Melbourne to Canberra to highlight toll of temporary visas