CRS was delighted to be able to run the Geoff McPherson Scholarship Program again this year, after Covid caused the program to have to be deferred in 2020. This was the program's 17th year, and it is an important complement to the broader goal of CRS to support refugees and asylum seekers settle in Canberra.
In 2021, the program provided 49 awards to refugee and asylum seeker students in the ACT region. This represented an increase in our usual program of 40-45 awards. The total value of the awards was $38,500.
As in previous years, the awardees were nominated by our partners, the ACT Education Directorate, Canberra Institute of Technology (CIT), Companion House, Australian Red Cross (ARC), NAVITAS, MAX Solutions and CRS.  All these organisations provide training or support to refugees and asylum seekers in the Canberra region.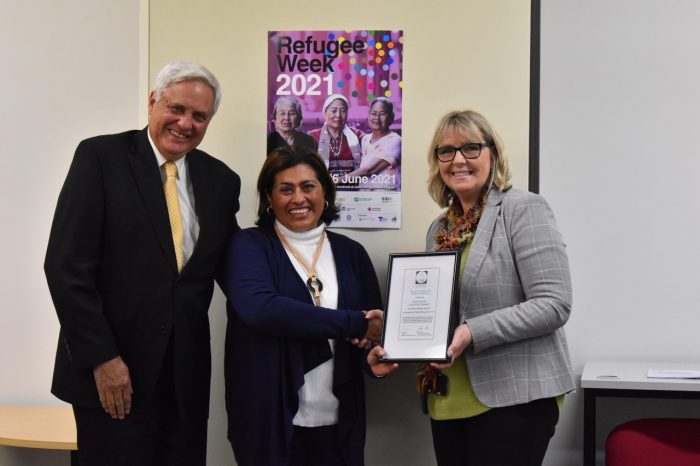 Gladis GARCIA de CESPEDES receiving her CRS award at CIT
Nearly two thirds of the awards were given to female students (62%).  Just over two thirds of the students were adults or college students, 15% were secondary school students and 21% were primary school students.  The students came from a wide range of countries and regions including:  the Middle East and Afghanistan (38%), Central America (23%), Myanmar / Thailand (20%) and South Asia (10%).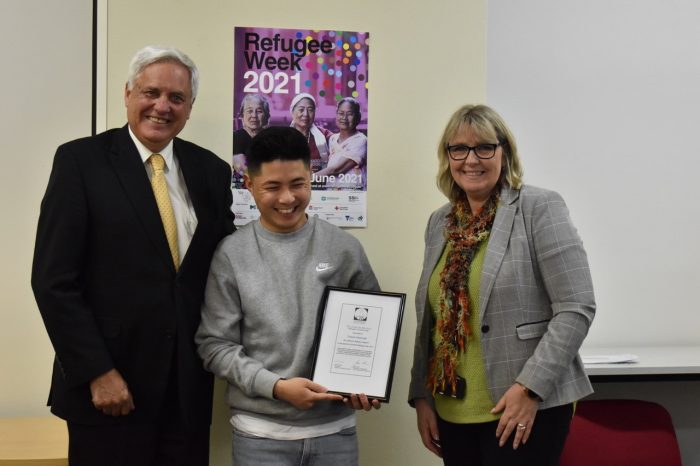 Tenzin KHENRAB receiving his CRS scholarship award at the CIT
Normally scholarships are awarded each year at a single and well attended ceremony during United Nations World Refugee week. This year, because of the difficulty of mounting a single Covid-safe event, the awards were made to students at over 15 different ceremonies hosted by the organisations that nominated the students. The ceremonies ranged from delightful small events at primary schools to larger events at the Canberra Institute of Technology and Companion House.
The scholarships team welcomed the opportunity to meet the students, their families, and teachers at their places of learning. Unfortunately, these events were not open to broader participation due to the ongoing risks around managing COVID.
The students ranged from youngsters completing their intensive English language programs before transferring to primary school, to adults undertaking English language training and post-secondary studies to support their future employment.  The awards help them cover some of the costs of their education, as well as encouraging and rewarding their endeavours.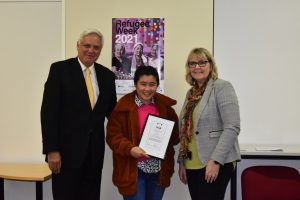 Tee Moo receiving her CRS award
These scholarships were made possible by generous donations from individuals and community groups in the Canberra community, and we thank them for their generous and ongoing support.  We would not be able to support our awardees without these contributions.  All donations are vital to the work of CRS, and all contributions make a difference to our local refugee community.  This year, Hands Across Canberra provided a substantial grant to the program, and we thank Hands Across Canberra, and their contributors for this generous support.